If you are a user of the popular professional networking site LinkedIn, the ability to block someone from contacting or viewing your page is a useful tool for keeping unwanted connections or contact at bay. Blocking a user on LinkedIn allows you to keep someone from being able to find, access, or interact with your professional profile. When you block a user on LinkedIn, it will prevent them from seeing and/or accessing any part of your profile as well as any posts, messages or other content they may have sent that you responded to. It also blocks them from being able to send you invitations to connect, messages via the messaging service, and comment on your posts. Additionally, blocking a user prevents them from being able to follow you on LinkedIn and engage with any content that was posted by you. Although it isn't possible to prevent blocked users with access to the 'People You May Know' list feature from potentially seeing who they must know in order to find mutual contacts between both profiles (unless they have zero mutual contacts). Also be aware that blocking someone does not remove invites sent by them before their account was blocked by the user who issued the invitation or message.
Can I Block Someone on Linkedin
Blocking someone on LinkedIn can be a useful tool if you need to remove a person from your network. This feature can help protect you from unsolicited messages and requests, as well as to shield yourself from any unwanted contact. There may be other reasons why someone would want to block a person on LinkedIn, and this article will explore them.
To Protect Your Privacy
Protecting your privacy is an essential part of using LinkedIn and so one of the main reasons to block someone on LinkedIn is to help keep your online interactions private. By blocking someone, you are eliminating any interaction with them beyond strictly professional connections. This enables you to avoid unwanted messages, inappropriate photographs and other intrusive communications.
Blocking a person also ensures that all posts and comments you make on the platform stay secure and private between only those parties able to access it – such as yourself, mutual connections and any approved groups or businesses. In addition, all activity that includes a blocked person is hidden from view in areas like public profiles or group feeds, so your posts will remain secure from scrutiny or embarrassment. Finally, if you are uncomfortable with someone viewing or engaging with photos or other content on your profile page or profile feed (such as text updates or articles), blocking them can provide an extra layer of protection for personal information too.
To Avoid Unwanted Communications
Blocking someone on LinkedIn can prevent unwelcome contact and messages, creating a more positive online experience. With the ability to block unwanted contacts, you protect your valuable networking time and maintain control over who has access to your professional profile.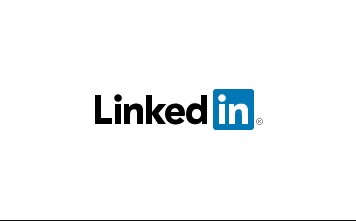 If you start receiving unsolicited messages or invitations from someone, carefully consider the content and sender before responding. Before you report spam or abuse, it's best to check that the individual is not connected to a mutual contact or industry colleague—you may be able to deal with the situation in a more personal manner. If necessary, blocking a connection can be done quickly and remain discreet.
Other reasons for blocking connections include:
Restricting visibility of information shared between Networking Groups.
Removing yourself from specific suggested contacts or people who have viewed your profile recently
Preventing future contact if somebody does not adhere to accepted Professional Networking instructions
Ensuring unwanted connections do not gain access to new job opportunities that are posted.
Preventing online stalkers or harassers from viewing your professional information
Blocking allows professionals on LinkedIn the ability to keep unwanted contacts at bay while keeping other colleagues visible—all while remaining respectful of established rules of professional networking within the platform. It's important that all users follow these protocols when navigating their digital landscape; doing so will only further enhance their online network experiences.
How to Block Someone on LinkedIn
In today's digital age, it is important to stay safe online. One way to do this is to make use of blocking people on LinkedIn. In this article, we'll look at how you can block someone on LinkedIn, as well as the advantages and disadvantages it presents. Read on to learn more.
Log in to Your LinkedIn Account
If you need to block someone on LinkedIn, the first step is to log in to your account. Make sure your profile is up-to-date if you'd like to keep it visible, as this will ensure that the information about you does not become outdated. You can find the Log In button in the top right corner of any page on LinkedIn. Once you have logged into your account, select "My Network" from the drop-down menu at the top of the page. From here, it's time to locate and select the person who needs to be blocked. You can use search functions or, if they're in your connections list, scroll down and click on their profile name.
Once you have located and selected their profile page, click "More" (represented by three dots) located near their profile picture and select "Block or Report" from the drop-down menu that appears. Select "Block" from a new pop-up window that appears confirming this action. When done properly, blocking someone will remove them from your network list or connection and prevent them from viewing your profile information or contacting you through LinkedIn's messaging system.
Go to The Person's Profile
Go to the person's profile on which you want to block. From there, visit the "…", select "More" and then "Block or Report." Confirm your action, and the person will be immediately blocked. If you have chosen to block someone on LinkedIn, once the user is blocked, they will not be able to view your profile or contact you in any way through LinkedIn. The user won't receive any notification that they have been blocked — this is kept confidential between you and LinkedIn. Typically you can block someone from a post in which they've written something inappropriate or offensive by clicking on their profile picture/name and selecting "Block" from the dropdown menu. LinkedIn also gives you an option for reporting them for something more serious than just blocking them — this should be done if necessary so that LinkedIn can review their account activity appropriately.
Select The "More" Button
If you want to block someone on LinkedIn, the process is straightforward. Access the profile of the person you want to block by either searching for them in the search bar or visiting their profile. Once there, click on the three dots next to their profile picture and select "More" from the dropdown menu. This takes you to a page containing options including an option for blocking a user. Selecting this option will block any interaction between yourself and the blocked user, thus protecting your privacy and providing a safer online experience for all users involved.
Select "Block or Report"
If you are receiving unsolicited messages or friend requests from someone on LinkedIn and want to block them, follow these steps:
1. Visit the person's profile page and click the "More" tab below their profile photo.
2. Select "Block or Report" from the list of options
3. Enter a reason for blocking this person, select an option from the drop-down menu and click the "Block [Person]" button.
4. Confirm that you want to block this person by clicking "Confirm Block" in the dialog box that appears.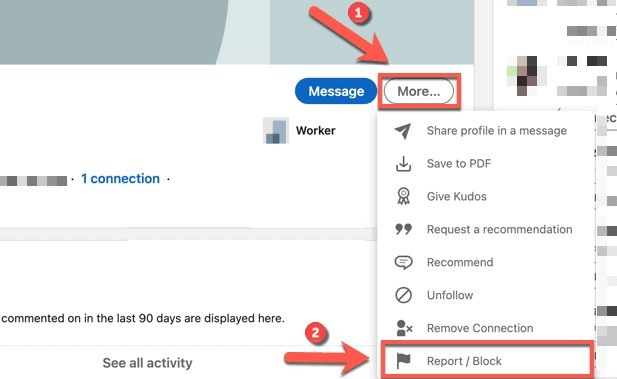 Once blocked, this individual will not be able to view your profile, send you InMail messages, follow your company page or invite you to connect with them on LinkedIn. If this individual had already been connected with your company page before they were blocked, they will no longer be counted as a follower of your company page on LinkedIn after they are blocked and will be removed from any conversations associated with that company page as well.
Conclusion
It is important to remember that once a user has been blocked, they will no longer have access to anything they previously had access to with regards to the person who blocked them. This can include the ability to interact, message, or view posts and updates shared by the person who did the blocking. Additionally, all existing connections between the two users are automatically removed. If you decide you would like to unblock someone after blocking them on LinkedIn, you simply need to open up your privacy settings and select "unblock" next to their name. It is also possible for a person to unblock a user before any interaction takes place even if they have already been blocked prior. Whether or not someone decides to permanently block another user on LinkedIn is up to personal preference and depends on how comfortable each individual feels about online interactions with other users.